Banana bread greek yogurt recipe
Our banana bread greek yogurt recipe is simple to make and so delicious. Real homemade banana bread with 2 bananas. Make your own loaf today.
Banana bread with Greek yogurt
Our Banana bread with Greek yogurt recipe is the best. Great for holiday gatherings and that lazy Saturday. Make a loaf today.
Ingredients
2

bananas (medium)

2

eggs

2

tbsp

honey

2

tbsp

canola oil

1/2

tsp

vanilla extract

2

oz

Greek yogurt

1-1/2

cup

whole wheat flour

1/4

tsp

salt

1/4

tsp

cinnamon

1/4

cup

hot water

1/2

tsp

baking soda (dissolve in hot water)
Instructions
In a mixing bowl, smash 2 medium bananas with a fork. Keep mixing until bananas a pasty texture.

In a separate mixing bowl, add 2 eggs, honey, and canola oil. Mix with egg whisk until smooth.

In same bowl, add vanilla extract and greek yogurt. Mix until smooth.

In same bowl, add smashed bananas. Mix until smooth.

In a separate mixing bowl, combine flour, salt and cinnamon.

In same bowl, add banana-egg mixture. Mix until it forms a thick mixture. Add baking soda and hot water. Mix some more.

Oil a bread pan. Place banana bread mixture in bread pan. Even it out.

Bake at 325 F (165 C) for 50-60 minutes.

Remove from oven. With a spatula, free all sides of the loaf. Flip loaf from pan onto a cutting board.
Banana bread low calorie
Traditional banana bread recipes call for sugar and cooking oil. For calorie-conscious people, the sugar and oil amounts will be high. The best way to reduce calories is to reduce the measured amounts. Simple enough, but the effect this has on taste and moistness is catastrophic. The proper method is to replace some of the sugar and oil with natural low-calorie ingredients. Here is a Weight Watcher banana bread recipe that comes in at 90 calories per slice. Talk about banana bread low calorie heaven.
Banana bread dairy free
Again, the traditional banana bread recipe calls for some type of dairy, whether it be cream cheese, greek yogurt, or heavy cream. Fortunately, the vegan community has given us a wide range of dairy-free products. Try this healthy Banana bread dairy free recipe from Cookie and Kate. Most people find little or no taste difference between regular and dairy free banana bread recipes.
No eggs banana bread
Most baking recipes use eggs. However, many people have eliminated eggs from their diet. In particular, the vegan diet forbids the use of eggs. The challenge is to find suitable alternatives. See our Can vegans eat eggs article for more details. Banana bread without eggs can be just as delicious and moist as traditional recipes.
Best banana bread recipes ever
weight watcher banana bread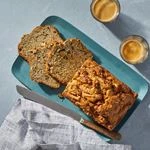 Applesauce banana bread recipe
Banana bread with chocolate recipe
Banana bread Ina Garten
Banana bread recipe Starbucks
Banana bread eggless recipe
Banana bread FAQs
Is banana bread gluten free?

The answer is No. Wait! With some extra care, you can make gluten free banana bread. Try this banana bread vegan gluten free recipe. Visit Recipe

Can banana bread batter be frozen?

Can banana bread batter be frozen? Yes. Frozen banana bread batter will last 30 days. However, the batter should be thawed before cooking.

Is banana bread keto friendly?

Is banana bread keto friendly? Sadly, No. But wait. Traditional banana bread recipes use flour that is high in carbs. Fortunately, there are many alternative flours. Try this banana bread almond flour recipe. Visit Recipe

Is banana bread vegan? Sorry, not vegan. But wait. The vegan community would not leave you wanting. Try this banana bread vegan gluten free recipe. Visit Recipe

How many calories in banana bread?

200 calories per slice. If you are watching your calories, Try this banana bread low calorie recipe. Visit Recipe